My Morning With The School On Wheels Of Massachusetts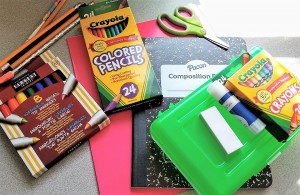 I'll admit, that like a lot of kids, my favorite part of going back to school was getting new supplies. A fresh box of crayons, a special folder for a favorite subject, that first calculator, or a brand new backpack can help a student feel ready for school. Now think about the thousands of homeless children in our state for whom those supplies are a need, not just a want. What about them? I just worked with the School on Wheels of Massachusetts (SOWMA), a group who provides school supplies, as well as tutoring, to children impacted by homelessness in our local area.  I spent a rewarding day with some of my NAPO New England colleagues, where we heard some saddening statistics, learned of SOWMA's incredible mission, and filled backpacks with brand new school supplies for these kids.
The mission of School on Wheels of Massachusetts is to educate children impacted by homelessness by providing academic support and one-on-one mentoring so children can reach their full potential.
SOWMA runs a well-organized facility.  It truly impressed our group of Professional Organizers with how efficiently their process worked. Starting with the Kindergarten school supply list, we chose a backpack for either a boy or girl and worked our way along the wall of various school supplies, choosing the appropriate items from their list.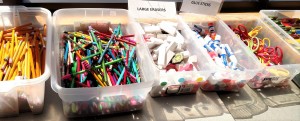 We enjoyed tucking crayons into the zippered compartments, notebooks and folders in the big compartments with the pencil boxes filled with glue sticks, fun pencils, kiddie scissors, and markers.  Then came my favorite part: choosing the book. Every backpack that SOWMA gives out, from Kindergarten up through high school, has a book in it. There were some great books to pick from (many donated by Barnes & Noble), and I chose Where the Wild Things Are by Maurice Sendak because my boys loved that book when they were young.
The average age of a homeless person in Massachusetts is 8 years old.
Later we moved on to fill backpacks for elementary-aged kids, exercising great care to coordinate the backpack with our choice of folders, pencils and other supplies. It was sort of thrilling to find a Lego-themed folder for the backpack I was filling. One of my fellow organizers was just as pleased with the sparkly purple folder she found for her student's bag. It was a little more challenging to pick the books for this age group; we found ourselves deliberating the selections with each other, to be sure we got it just right.
We were invested in this process, we each wanted our backpacks to be perfect for the child who would receive it. This sentiment continued through packing the High School supplies. Now the backpacks were larger and the list of supplies was longer, including a calculator and a 3- ring binder. However, we still felt the same desire for these kids to enjoy their bag and their school supplies.
There are over 37,000 homeless children enrolled in Massachusetts public schools; 13,000 are in high school and fewer than 1 in 4 homeless teens will graduate from high school.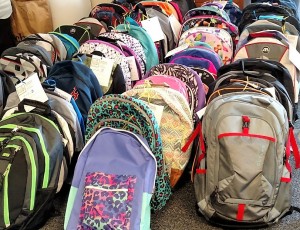 As we were finishing up our time at SOWMA, we were privileged to meet a woman picking up a backpack for a child in need. Seeing the pile of stuffed backpacks, ready to go out to students in need, she was overwhelmed by the choices. As she pored over the assortment of colors and styles, she started to tell us about this particular boy, his family's struggle, and how he loved Spiderman – then her face lit up and she let out a small shriek. Someone had just filled a Spiderman backpack that morning! It really made our day to witness her appreciation and watch the bag full of much-needed school supplies head out to its new home.  Normally, I am charged with helping someone get rid of stuff; on that day, I helped to get very important stuff to the kids who need it.
School on Wheels of Massachusetts (SOWMA) is the third such program in the country. They are mostly funded by private donations from individuals, civic organizations, businesses and foundations. SOWMA provides tutoring to children impacted by homelessness, from kindergarten through High School, in Brockton, Fall River, New Bedford,  Norwell,  Randolph,  Stoughton, and  Weymouth. There are 35 of SOWMA's students enrolled in college.
You can find out more about this wonderful group here http://www.sowma.org
MOST NEEDED ITEMS –  Quality new backpacks for boys and girls in grades K-12
ITEMS NEEDED TO FILL BACKPACKS
Colored Pencils
Boxes of Pens
Washable Markers (8 pack)
Crayons (24 pack)
Zipper Pencil Pouches
Square Root Calculators
Glossy Pocket Folders
Notebook Dividers
Rulers (soft touch or flexible)
Scientific Calculators
Three Ring binders – (1½ inch)
Wide Ruled Filler Paper
Flash Drives