Setting Up Your Freshman Dorm Room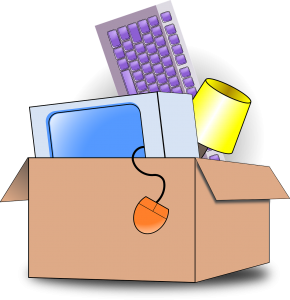 This is an open letter for my nieces, nephews and friends' children when it's time to pack for their first year of college. This is not a checklist; rather, it's some advice from me, a Professional Organizer and Mother-who-has-been-there-done-that on setting up your freshman dorm room.
It's difficult to space plan until you're there.
You may move your room around a few times in those first weeks, so keep ALL your receipts (in one big envelope) until you are settled in. Many dorm beds have adjustable heights, consider using the middle height and put the fridge and some storage containers under there. If you "bunk" the beds, you gain floor space but can't store much under the bed. Do NOT use bed risers with bunked beds; it's a safety hazard.
Your bed will be your command center.
Make it comfortable and functional. Bring extra pillows and shams to help make this space act as a couch and be more cozy. An egg-crate mattress topper can help make a poor mattress feel better. Attach a pocket organizer to the side of the bed to hold your cell phone, remote and headphones. This is even more important if you are in the top bunk. Try not to put too much in the pockets – keep it simple. There are some good examples at www.organizeit.com
Space is limited so use the walls – but don't damage them.
Buy plenty of 3M Wall Hooks and Command Strips – they don't take up much storage space. The Wall Hooks can hold hats, a towel, keys, backpack, and jewelry – anything you can put on a hook! I love the 3M Command Strips, too. Use them to attach a magnetic strip to the wall over a desk to make the most of this space. Use super-strong magnets and magnetic accessories like mesh baskets to hold pens, post-it notes, and scissors and keep things off the desk area.
Hanging space needs to be maximized in the closets.
Bring thin hangers to conserve space but bring two or three thicker ones for heavier items like coats. Fold jeans and sweatshirts if there is no place in the closet. If you will be going home during Thanksgiving or Christmas break, then pack mostly lighter clothes to start the school year – bringing home the shorts, sandals and light jackets over break and return to school with the jeans, winter coats and boots.
Pre-pack any storage containers you are bringing.
I love stack-able drawers in all sizes (tape them shut during the move). The larger ones are perfect for extra bedding, towels or bathroom supplies. These can utilize the space under the bed -if it is raised- or can be used as a night stand, an extra dresser or a TV stand. The smaller ones can squeeze extra storage into spots like the bathroom counter or desktop. The storage drawers from Container Store stack well, you can put a fair amount of weight in them and they come in great colors. Clear plastic containers with lids are great for storage too; plus they come in many sizes and can fit into a closet, stack on a dresser or under the bed. I like them for a first aid kit, office supplies, batteries, your extra 3M Command Strips and hooks, extra cords and chargers. Label these containers as you pack them!
Bring a power strip and some cables – the outlets are never where you need them.
Find a power strip with surge protection on a long cord. Some come with built-in USB port chargers, which can be very handy. Think about all the items you are bringing that need to be plugged in and bring a few extension cords. Check to see, but your school will probably have wireless access throughout the campus. Still, you should bring a longer length Ethernet cable to insure a good connection in your room in case the WIFI signal is poor or goes out. Finally, remember that it is hot in August. If your dorm does not have AC, consider bringing a fan.
Label anything you do not want to lose!
Label jackets, sweatshirts, towels, backpack – just label everything! The STIKINS ® Name Labels are my favorite. Do this before you pack because you will never do it once you arrive at school. These labels stick on to the clothing tabs (the size/washing instruction tab) with no ironing and wear for years. They work on hard surfaces and shoes too! I labeled my son's things before his freshman year and they are all still attached to his towels and remain legible 6+ years later. (It may be time to buy him new towels.)
If you have a bathroom in your suite then you are responsible for supplying it.
You will need to bring toilet paper and you (or your roommate) may need to bring a shower curtain, liner, curtain rings and bath mat. I would buy these from a store that has a location near your school – if you don't need everything, return them and use the credit for something you forgot to bring.
Don't buy thick towels, they use up too much space and take longer to dry.
If you get thinner ones, you may be able to bring more (more time between laundry days). You will need to have a place in your room to hang your towels to dry and keep them clean. So will your roommate, so try to find one solution that you can both use. If the back of your bedroom door is free try using the Bungee Overdoor Towel Rack by Umbra or an over the door rack that has 4 or 5 hooks. (All dorm doors are different so remember to keep that receipt.) The Command Hooks will work in a pinch for an individual towel.
You will need to clean your dorm occasionally – like when your family visits.
A Swiffer or broom/dust pan will work well but if you are bringing a rug, you may need to bring a small vacuum. Clorox wipes will be the easiest way to quickly clean the bathroom, so it may get done more often if you have these. You will not have room for a gallon size bottle of cleaner (bring a small bottle and buy more later), Windex (for the mirror), sponges, paper towels, toilet bowel brush and toilet cleaner.
As a freshman you may not have a kitchen but you will want a few kitchen items.
Paper plates, cups, napkins, can opener and big bowl will all be useful. The bowl will come in handy for popcorn, chips and other things. Buying water in bottles get expensive fast, so bring a Brita water pitcher and filter tap water. (You will need to wash these every now and then, so pack a little dish soap too.)
There will be papers you won't want to lose.
Probably not much, almost everything will be online, but still there will be some paper and your parents are not there to keep it for you. A small file box with a couple of hanging files with tabs and blank folders will help you to stay organized. Write a descriptive label on the folders so you can find these papers later. You may want to have a folder in the front titled "Important" or "To-Do" for those papers that require some action – such as filling it out and returning it.
Don't leave valuables out in the open.
If there is not a locking drawer on the desk in your room, then bring a lock-box for your laptop, camera, credit cards, cash, and jewelry or car keys. It doesn't need to be very big but it will need to have a good security cable so you can lock it to something solid in the room (like the headboard). A small lock box that is not attached could just be carried out.
Should you bring a printer?
Many schools provide network printing options so that students don't have to bring a printer, but look into where these printers are located around campus and when they are available for you to access. If you bring a printer make sure you have the appropriate cables, ink and paper. If you choose to use the school's printers then a few USB drives may be useful.
Try to think of items having a dual purpose as much as possible.
Look at the things you are already bringing and try to think of ways to maximize their usefulness". For example, your dorm fridge can hold your microwave or a television, and a bulletin board can double as an earring holder; but if your trash can is made of mesh and you vomit at some point in the next four years – it will not be helpful.
The best thing to bring is a positive attitude and some flexibility.
Try not to pack for every possibility. Check for a store like Target close by and fill in as needed over the first few weeks at school. People do share, your dorm is a community and this is one way for you meet your neighbors. Your roommate will arrive with their own ideas on how to arrange the room so be open to negotiation. You will learn as much about life in your dorm as you do in the classroom.
All the best to you on your new adventure! – Heather