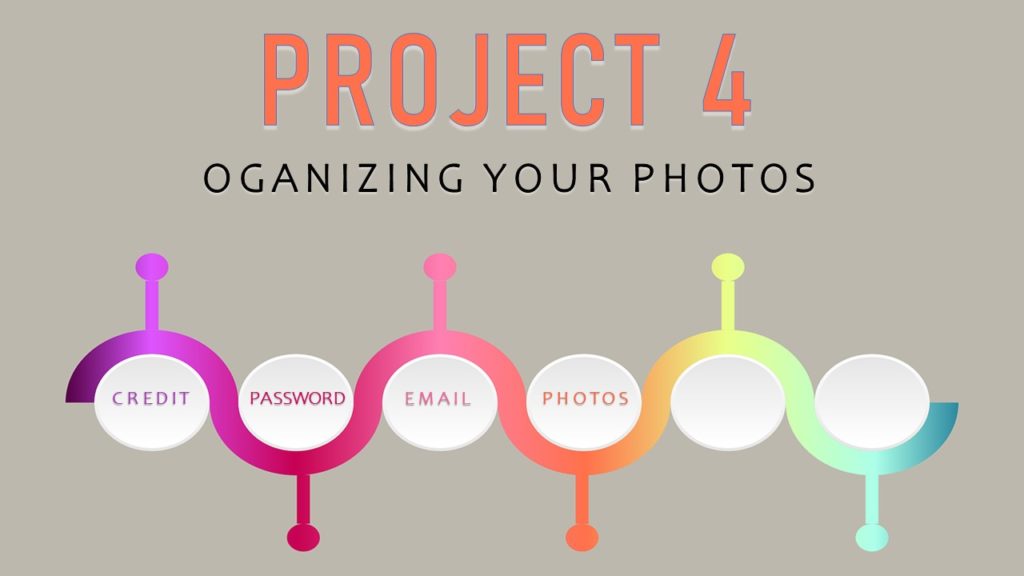 Organizing photos feels daunting, and often less urgent, than other projects; that is, until we need them or fear we've lost them. Then the anguish of losing something with significant sentimental value hits us. After a disaster — fire, tornado, or hard drive failure — photographs are among the items people grieve the most. Even so, they are seldom a priority in our busy day-to-day lives. So, let's take some time to create a central location for all the photos to live, develop a framework to organize them, and implement safeguards to protect this asset.
The main challenge – where are all the photos?
For many of us, our photos are scattered all over the place, in various forms. Physical photographs live in shoeboxes, antiquated memory books, drawers, and old picture frames. Digital images are stored in computers, outdated phones, tablets, photo streams, SD cards and hard drives, as well as tucked away in a variety of clouds.
To organize printed photos, start here:
Sort
Establish broad categories and be consistent. As you sort, use dates/years, events, or people to label your categories.
Mark the category name on each group as you start sorting. If you step away from the project for a while, you will appreciate those written notes.
Use an acid-free pen or pencil, labeled safe for photos, if you choose to write on the back of your pictures.
Include home movies, letters, and other memorabilia.
Purge
Yes, you have my permission to throw away photographs (I know this is tough)!
Discard all the poorly exposed, blurry, dreadful, or boring photographs.
Remove duplicate or excessive repeats of the same image.
Unless they a have a specific or powerful connection, remove all or most landscape images.
Keep
Keep photographs in a climate-controlled space to avoid dampness and humidity.
Use archival quality boxes or sleeves that are photo-safe and PVC free to protect photographs from light and dust.
Label your containers clearly for storage and create subcategories to make finding photos easier.
To organize digital photos, follow these steps:
Locate
Choose a central location for all your images to live. Your primary computer is ideal if it has enough storage.
Upload your phone's images to your primary computer or other central location by connecting it to your computer wirelessly, with a USB cord, or by using an app such as iCloud or Google Photos.
Bring older devices and hard drives to a local computer expert to extract the photos.
Remember to search for images from friends and family! They frequently hide in email attachments.
Finding all your digital images can be daunting, but there are tools to help you.
Sort
Develop a core folder structure to keep track of images by categories. There is no right way to categorize or organize your pictures — just use labels that make sense to you.
Use broad categories for your main folders/albums of people, places, or events and then use sub-folders to add another level of organization.
Label your images as you go by adding keywords and tags to make searches easier. This article has lots of good information on keywords. Many photo software programs have a labeling feature, too.
Purge
Delete the images that no longer have value, are of bad quality or have no context.
Delete repetitive shots. They fill up your hard drive and make your folders harder to organize. There's plenty of software for MAC and Windows to help you remove duplicates.
Keep
To truly keep your images safe, photo experts suggest using a comprehensive strategy of backing up to three separate places.

Keep your original images on your own hard drive if at all possible.

Use a trusted external hard drive as part of your back-up plan. However, external hard drives alone do not offer sufficient protection. They can get lost, stolen, damaged or targeted by computer viruses.

There are numerous cloud options available (Backblaze, Amazon Drive, Google Photos, Dropbox) and it's very tempting to simply use the default cloud back up that comes with your operating system. But using only a cloud-based system leaves you vulnerable to service outages, companies going out of business or changing their terms of service.
Understand that operating systems, software, storage and file formats change. Be prepared to move your data to a new storage method before the old one fails or becomes unreadable. You may also have to convert your images to whichever file format becomes dominant before the old one is eliminated.
Automate your backup process: Have your phone regularly sync to your cloud and set up a schedule for routine hard drive backups.
If you opt for a paid service to maintain your photos, read the agreement carefully and be sure you can download your entire catalog at full resolution if you decide to change platforms.
Be aware that some services don't maintain the resolution exactly as you uploaded them. For a fee, Google will store a terabyte of images at their original quality; their free service keeps them at 16MP. Facebook reduces images from printable quality to web-viewing quality.
As you can see, organizing photos is not a quick and simple task. It's a project that requires time and some effort. For your digital collection, there are many tools and services to help you depending on the platform you use and the level of service you're looking for. A few suggestions were linked within the article but there are many, many more.
Share your photos
Don't let those memories just sit there; use them to tell your story. Celebrate life's special moments and milestones. Share pictures with friends and family on social media or more privately through an app like SmugMug. Use them to create a photo book of your vacations or a yearbook for each child. Or go old school and print them out to give to others (you would be surprised how many people love this option).
Tip: If you're looking for help with this project, I highly recommend EverPresent in Newton. Their services include scanning and restoring photographs, as well as making photo books and slideshows. They can handle all your digitizing and photo organizing needs, and their customer service is wonderful. They eliminate a lot of stress and anxiety for people. My clients have told me they that they enjoyed the process with EverPresent's help—and wished they'd done it sooner.
Whether you've been tripping over old boxes of photos for years or you're the family archivist, organizing and maintaining your photographs is a project worthy of your time and attention.
Check out all the projects in this blog series: