Greeting Cards – Should They Stay or Should They Go?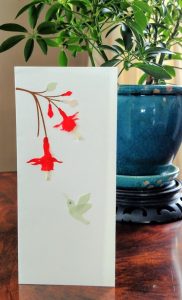 Everyone loves to receive a card. The beautiful picture, a personal note inside – the perfect card can tug at our heartstrings. For many of us, we enjoy them for what they are at the time and then let them go. But not everyone feels this way. Too often I see people struggle with the overwhelm of cards and what to do with them: keep or toss? Here is my advice on greeting cards.
It is okay to keep special cards.
However, not all cards are meant to be kept forever or are equal in sentimental value. A hand-made creation with a heartfelt note is different than a generic store card with just a signature at the bottom. Too often people feel obligated to keep every card out of guilt or tradition.  Next time you find yourself routinely stuffing a card into a pile, ask yourself – "Why am I keeping this card?" If it is truly a card that conveys joy or allows you to feel connected to a person, place or time – then find a distinctive way or place to keep the card that honors this memory.
It is okay to let cards go. 
If your stash of cards is overwhelming- mentally or physically- and you are not enjoying them, you have permission to let them go. Of course, you don't need my (or anyone else's) permission; but over the years, I have found clients often need to hear that it is okay to let things go. Remember that when you keep everything, nothing is special.
Letting go doesn't always mean tossing them in the trash.
There are schools, nursing homes, adult day-care centers and recreation centers with arts and crafts programs that collect and re-purpose cards. St. Jude's Ranch for Children recycles used greeting cards and creates new holiday and all-occasion greeting cards. Alternatively, use them for your own crafts or scrap-booking projects.
Appreciate why you are keeping a card.
As you sort through your collection, identify which cards you feel a strong connection to and why. Understanding your attachment can help you decide how to use or store it. Once while helping a client sort through her office, we found a tattered old card with a hand-drawn blue frog on the front. She instantly started to both laugh and cry. The card represented an inside joke with her brother, who had passed away. Recognizing that it was the story that meant so much to her, we scanned the card and saved it to her computer. This allowed her to share their special story with friends and family on Facebook.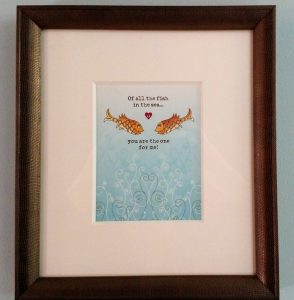 Honor your memories. 
Instead of stuffing that special card into a box or drawer, find a way to re-purpose it. For example, this image is a Valentine's Day card to my husband from several years ago. I brought it to the Frame Center and they found the perfect frame for it. (Notice the small "scale" detail in the frame. They are awesome!) Now it hangs on the wall going into our master bathroom and I smile every time I see it.
I hope these tips help you when you are ready to go through your old cards. Sifting through these memories can be quite a roller coaster of emotions. Find some quiet time, settle in and go for the ride!
Check out my other blog posts to learn about a very special card, that I will always keep or a unique way to share memories.