Overwhelmed: Anne and Nancy's Stories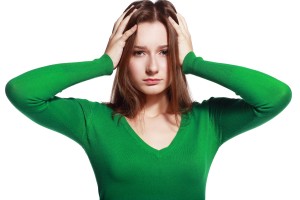 The Internet provides instant access to oceans of information on organizing. You can read advice from Real Simple, Martha Stewart, or a Professional Organizer (you're reading my advice right now). Add the innumerable blogs, articles, and Pinterest boards dedicated to filing paper, designing the perfect pantry, junk drawer or garage, and you may feel enough inspiration and motivation to get the job done. But what if you need more than a lovely image and generic advice – what if you are overwhelmed?
Clients call me most often because they are just that: Overwhelmed.
Each situation is unique to the individual but there are common themes, as well. I'd like to share the experiences of two clients* who were both overwhelmed, but for different reasons. These stories may help you see that no one should feel embarrassed or alone when they're in that beleaguered state.
Anne
Anne called me because she was exasperated with herself.   She used to be so organized, but lately everything had become a mess. There was no longer order in her house, an order she used to enjoy. She didn't have enough space to fit all her stuff. There was a backlog of projects, including filing, and she couldn't seem to complete all the tasks she wanted to in a day. She was frustrated with how difficult it was to keep everything organized. Recalling our initial phone call, I pointed out that she had moved, was caring for three young children, and had just renovated the kitchen. Anyone in that situation was bound to experience a setback in organization. Anne admitted that there had been a lot going on for the past few years, but that she still felt like a failure because she used to have a perfect home.
There it was, the source of her feelings of being overwhelmed – the need to be perfect. Perfectionists prefer to work on a task if they can do it perfectly; and if they can't do it just right, then they put off the task until they can. Striving for perfection may have worked for Anne a few years ago, but with children and the exhaustion that comes from moving and construction, it was no wonder she was overwhelmed.
What worked for Anne.
In a few sessions over the next couple of months, we organized a few rooms at a time and set up some simple yet realistic systems to keep things running smoothly. Many of Anne's Pinterest worthy organizing ideas were very time consuming and no longer worked for her. We simplified her filing/bill system to stem the overload of paper. Organizing the closets and bedrooms, helped the laundry process to flow better. Each area we tackled was with the aim of making life simpler. Anne now calls herself a "recovering perfectionist!" She has learned to recognize when her need for perfectionism gets in her way. I still see Anne occasionally for help with bigger organization projects like the garage or basement, no longer uncomfortable asking for help.
Nancy
Nancy had brought home many things from her parents' house after her father died. Lately she realized that even though time had passed, she simply could not bring herself to sort through them. She felt stuck, and called me. This type of request is common, but once we met and started working together, her story unfolded.
Nancy had lost her mother after a long battle to cancer the year before. Six weeks after this loss, her father suffered a stroke, was moved out of the family home and into a nursing home. Nancy was the oldest child in her family, executor of the estate and the only family member living on the East Coast. She had spent every free moment over the previous four years tending to her parents or settling their affairs. Her priority was her parent's well-being and she ignored anything that wasn't a crisis in her own life. This high-stress existence took its toll on her and her home. It became apparent that Nancy was not just trying to deal with the items from her family's house. The root of the problem was that she had never properly mourned for her mother before being consumed with the care of her father.
What worked for Nancy.
The first month I worked with her, Nancy and I cleared out three rooms: her bedroom, living room and kitchen. This allowed her to have a place to retreat; a space to relax, and begin to work on healing. We stopped and didn't tackle anything else for a few months. When we started to work again, her purpose was clear and her decision making was a little easier. It took some time for her to completely deal with everything. Little by little, we worked together to prioritized her needs and divide the process into manageable tasks. Recently, Nancy called me to help her move. She is headed to the West Coast, excited to join her sisters and start a new chapter in her life
There is no shame in reaching out for help.
It takes immense courage for my clients to make that first call and allow me to help them. The feeling of being overwhelmed by disorganization stems from so many causes: illness, depression, trauma and so on; but even happy events such as moving, blending families, having children or landing a new job can upset the normal balance in a home. If you find yourself stuck, for whatever reason, just know you are not alone and there is no shame in asking for help. That is what I am here for.
* Names have been changed and details altered slightly.
You may also enjoy reading "What led me to become a Professional Organizer?"