How To Make Clutter-Free Gift Giving Easy!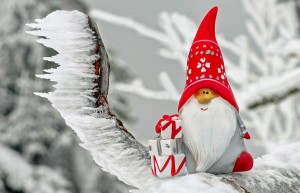 The "Season of Giving" is upon us and everyone is making their list and checking it twice. Whether naughty or nice, consider those on your list who may appreciate clutter-free gifts. Presents that are consumables, services or experiences are quickly becoming very popular choices. People are more conscious of their buying and giving habits, particularly if they desire a clutter-free home themselves.
We associate giving gifts with the expression of our love – and many of us truly enjoy finding that perfect present for everyone on the list. Still, I witness too many of my clients, who are trying to live with less, become overwhelmed by well-meaning family members who shower them with lovely but superfluous items.
                                 

Here are my thoughts on clutter-free gifts                                                       for you and those in your life:
l

When you want less stuff:
If you want less stuff, articulate this clearly. Or, convincingly offer a suggestion of something you do want. Realize that it can be difficult for a loved one to understand that you don't want any presents. We often feel the need to express our love or friendship with a gift. We also cringe at the idea of leaving someone out of the celebration. For example, Grandma cannot just say "Oh, don't bother getting me anything," because her family wants to include her; and then they are left to come up with ideas on their own (this is rarely a good outcome for Grandma).
If your loved ones want less stuff: 
When a loved one asks for a specific gift, an act of kindness or donation made in lieu of a present, we need to listen (and act). Too often, we reject proposed gift ideas as inadequate, boring or too practical. This is where our ego gets in the way. Remember: gift giving isn't about your agenda; it is about showing the recipient that you care.  This year, prove that you care by buying the gift they've asked for. Show them that you listen.
                         

A little creative thinking could save your gift                                                                                    from being stuffed into closets or donated in January!
 If you don't have a specific request from everyone on your list, consult this collection of clutter-free presents.  The ideas are broken down into categories; but many are repetitive, interchangeable or adaptable. For instance, my favorite gift- the movie pass- is great for anyone of any age. Local Showcase Cinemas offer a $100 pass for $75 in December. This pass could buy a movie a month for a senior or a night at the movies for a family of six, including popcorn and candy. A $25 movie pass is great for a co-worker or teen on your list.
                

ANYONE

 

CLASSES – you're never too old to learn!

• Yoga

• Art

• Photography

• Computer

PERSONAL SERVICES

• Nails

• Massage

• Hairdresser

PROFESSIONAL SERVICES • Professional Organizer

• Housekeeping services

• Landscaping

• Car detailing

• Handyman services

EXPERIENCES

• Movie, Museum or Golf pass

• Dinner out at a nice restaurant

• Event – concert, sporting

CONSUMABLES

• Basket of their favorite treats

• Wine, gourmet popcorn, flowers

• Lobster or Steak dinner certificate

MEMBERSHIP

• Museum, Golf course,

• Gym or YMCA

• AAA membership GIFT OF TIME– Always a Favorite!

• Help with a project

• Take them out for the day

• IOU to bring dinner in January

             

FAMILIES

EXPERIENCES
• Museum pass or membership
• Movie or Bowling passes
• Zoo pass or membership
• YMCA family membership
• Ski or Water park passes
• Event – concert, sporting
PROFESSIONAL SERVICES
• Professional Photographer
• Professional Organizer
• Housekeeping services
• Handyman services
• Nice Photo-book or Album
OTHER
• Coupon for baby or pet sitting
• AAA membership

   

TEENS OR YOUNG ADULT

GIFT CARDS
• Gas cards
• Amazon, Google Play or iTunes
• Game Stop gift
• Car wash
• AAA membership
EXPERIENCES
• Movie or Bowling passes
• Ski passes
• Event – concert, sporting

               

TEACHERS

BEST OPTION
• A handwritten note from the student
GIFT CARDS – (with note)
• Coffee Shop
• Staples or Target
• Car wash
• Massage or Manicure (group gift)