Make Your Meal Planning Easy – Use These Simple Tips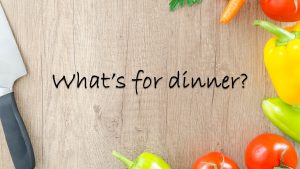 Meal planning can feel like an inconvenience, but not having one causes stress, leads to poor choices or even worse – take-out – five nights a week. I've broken down some of my favorite steps to creating a meal plan. Whether you're cooking for one or six, having a plan can save you time, money and aggravation at the end of a long day. This week, start to develop the routine of scheduling your meals and start enjoying dinner time again!
Find a method that works for you.
Use a calendar – electronic or paper, that gives you enough room for your menu and notes. I like to modify and write on a paper planner from Mom's Agenda. I then take a picture with my phone for easy access no matter where I am. I like to plan for the month, knowing there will be some adjustments, but week-by-week may work best for you.  At the beginning of each week, I write my grocery list using my meal plan.  There are many apps out there to help you create a meal plan and generate shopping lists, such as BigOven and Yummly. Find what works for you and stick with it.
Look at your schedule when starting to plan!
No two nights are exactly the same (and no two weeks are, either). Take that into consideration when planning meals. Who will be home, and when? Our son is back home, so most nights we are making dinner for three. He marks the nights he'll be away on the calendar, and I adjust accordingly (we have spinach and quinoa salad those nights – not his favorite). If Mondays are always busy, plan for a quick meal and plot that out on your calendar. Make your big meals or complicated recipes on nights you have more time. I generally arrange for pasta or leftovers on nights I need to be out for a meeting and my husband will be cooking for himself.
Plan from the pantry, shop the fridge and freezer first.
I always begin with my pantry and freezer. We buy our meat in bulk and freeze it, but (out of sight out of mind) it's easy to forget what's there. Before I sit down to create my meal plan I make a list of what I already have and go from there. What do I have in the pantry for rice or pasta? What do we need to use up? If we have a lot of eggs, I'll put a frittata on the menu. What vegetables are in season? What is on sale this week? When your meal planning is done right, it should mean fewer trips to the store.
Steal inspiration from everywhere.
I am on the lookout for new meal ideas all the time! Restaurant menus, magazines, and my collection of cookbooks serve as inspiration. One of our favorite salads (with granny smith apples, goat cheese, pepitas and pistachios) was an idea stolen from a lunch at Granite Links. But my favorite new meals generally come from food blogs. Most food blogs have beautiful pictures, detailed prep instructions, and seasonal recipes like this recipe for acorn squash from my friend's website. Bloggers truly have ideas for everything in your fridge. Still stuck for ideas? Get on Google! When you come across something you really enjoy, add it to your cheat sheet.
Keep a cheat sheet.
On the back of my planner, I keep a cheat sheet with options for meals by type: chicken, fish, quick meals, casseroles and soups. For example, a section of my list is salad toppings: avocado, black beans, quinoa, carrot shreds, pepitas, olives, artichokes – it goes on and on. The cheat sheet jogs my memory and helps me see something as simple as a salad differently. I also keep a few old meal planning calendars for reference when I'm low on ideas.
Rotate favorite "go-to" meals.
Use your family's favorites as the backbone of your meal planning. We all have those staple dinners that are easy and popular, so make those meals the mainstream and add a few new options to spark things up. If your family loves pasta, then schedule it a few times a month. Be kind to yourself; you don't need a brand-new recipe every day. Get the family involved, ask for their ideas or favorites – you may be surprised by their responses and creativity.
Try repeating themes – not meals.
It can get boring to eat the same thing all the time, but it can also be frustrating to think of something new. My solution is to repeat the themes, not the actual meal. For example, I may repeat chicken a few times a month, but try to change it up a little – whole roasted, parmigiana, barbecue, marinated or in a sandwich (Yes, a sandwich and salad count as meal in our house). We like Mexican food, so a burrito (using leftovers), tacos and Quinoa Enchilada Casserole give us three nights this month without repeating the exact same meal. You can do this with any protein, starch or type of cuisine.
Not every planned meal needs to be made from scratch.
Adding a side dish from the to-go section of the grocery store or take-out fried rice can save time, and will perk up leftovers in a pinch. Occasionally picking up a rotisserie chicken, Thai food or pizza from a favorite spot can be a life saver. Last summer I was often working late on Fridays, so we arranged for those meals to be take-out. Look for red flag days in your schedule when meal planning and plug in a little take-out help.
Plan for leftovers and embrace them.
I was never a big fan of leftovers, but I've found that they're an effective way to fill a month when meal planning. Soups, chili, roasts and casseroles can feed a crowd or be spread over a couple of days. We often have leftover pork tenderloin in the summer in our favorite salad with granny smith apples, and in burritos during the cooler months. A few of our other favorite ways to use leftovers are quesadillas, frittatas and stir-fry.
Allow for some flexibility, because life happens.
Within a given week, we may swap meals around to accommodate our ever-changing schedule. I usually plan the protein and starch portions of the meal, then stay flexible on items like vegetables. If I planned for broccoli and it looks terrible in the store, then swap for another green vegetable.  Still, even with great preparation, sometimes there is an unexpected change. A plan falls through – or a week falls apart. It happens. In our house we call these "fend for yourself nights." I always have some no-prep emergency meals on hand like pasta, canned soup, or eggs. And once in a blue moon, breakfast for dinner can be fun.