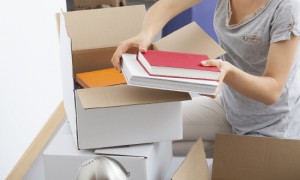 Organize before you move to save time, money and your sanity.
I can be there to help you sort and purge, so you move only what you will use and enjoy. Having a clear plan for the items you want to take will alleviate stress and frustration during the process of moving. You are also rewarded with an additional benefit: unpacking is so much simpler when the packing was done with a plan!
Save your sanity
Design a floor plan to confirm what will fit in the new space. Start a timeline, to keep track of all the details involved in moving. Create a plan for the day your house is packed up. Remember to make arrangements for young children and pets to be safe during the chaos.  Also, create a plan for the day you arrive at the new home. No one likes to search for the sheets the night you move in, or the coffee maker the next morning.
Save some money 
The more boxes, furniture and stuff you have to move, the more expensive your move will be. Doing some hard work in advance will also keep unwanted junk from cluttering up your new space. Donate and toss what you can before the movers arrive.
Save some time
I can help you prioritize what you need to do when moving and be there to help you get it done.  When you sell your house, time starts to tick away quickly, so don't wait until you're under the gun to reach out for help. Put a little time into organizing now to make this process more efficient. 
Next During the Move
Heather, Mom told me you were there today and how much you accomplished. She is so happy with you and the progress being made. She is much more comfortable (and dare I say even a little excited) about this move now. Thank you for taking good care of her! It has been such a blessing and my whole family is very grateful!
~J.W. from Denver CO